Major Advantages of taking Do Dham Yatra Packages | ABD Holidays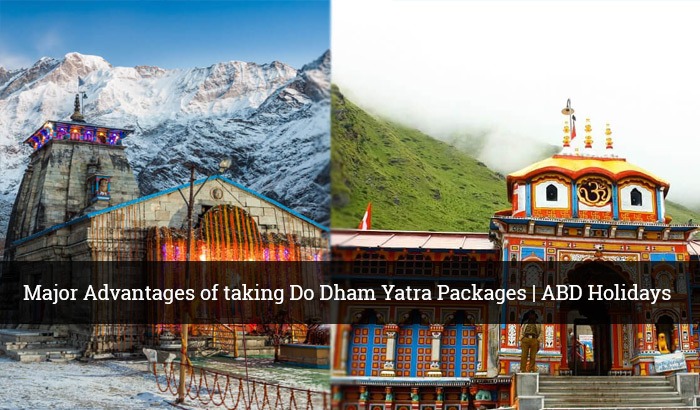 Do Dham Yatra includes traveling to any of the two spiritual shrines of the Char Dham including Badrinath, Kedarnath, Gangotri, and Yamunotri. Kedarnath and Badrinath are among the two spiritual shrines that are mainly included in the Do Dham Yatra. People mostly travel to the holy temple of Badrinath to meet their Vishnu Bhagwan in the dual form of Nar Narayan. Whereas, the devotees of Lord Shiva cross several mountains and conquer their fear of height and visit Kedarnath to pray to one of the twelve Jyotirlingas of Shiva Lord. Going to the Do Dham Yatra signifies clearing one's mind from all sorrow and pain, being absorbed in the devotion of the Guru, reaching his door, and feeling his energy.
So now, in the middle of such a devotional and emotional Do Dham Yatra, a person would like to keep himself away from the different worries such as booking tickets and hotels, selecting rides, etc. Planning for Do Dham Yatra looks and seems quite easy. But, when it comes to the organization and execution, you have to put a lot of effort to complete the trip smoothly and hassle-free. People mostly plan the Do Dham Yatra for the elder of their families, so it must be a convenient, safe, and successful journey. Therefore, it is beneficial to opt for a Do Dham Yatra package for the journey.
Tour Packages make the journey full of convenience
The support from the best and leading tour and travel agency can make the Do Dham Yatra safe and enjoyable for you. In the Do Dham Yatra package for families and individuals, you will get a complete combination of meals, hotels, and transportation.
And yes, some Do Dham Yatra packages also include booking the helicopter tickets for Kedarnath only if you want it. These packages are typically known as the Do Dham Yatra by Helicopter package. If you are not a person who prefers trekking, you can reach the place where spirituality breathes in the air, Kedarnath, by helicopter from Phata. Alongside, visiting Badrinath by car is also available in most Do Dham Yatra packages.
Advantages of Do Dham Yatra Packages
There's a saying that only the lucky ones get the chance to do the Do Dham Yatra. During the trip, keep yourself close to nature as much as you can, breathe the spirituality, and meditate to calm your mind and soul. But in the meantime, if you invest your attention to plan your trip, then when will you enjoy it?
For your convenience, choose the Do Dham Yatra package from the best travel agency and let the agent handle all the crucial activities starting from booking tickets, accommodation availability at hotels, etc.
Investing in a Do Dham Yatra package will allow you to know which places you need to see and how to get there. You will not feel the burden to cover all the tourist destinations when you plan to go on a pilgrimage journey with a tour package. Do Dham Yatra package covers all locations and provides the best journey experience to the customer.
Travel companies plan your Do Dham Yatra package as per the current situation and climate of the destination. On the other hand, planning a trip on your own may put you in trouble, particularly when you are unfamiliar with how things stand there. When you take the Do Dham Yatra package by a certified travel agency, every facility is provided by them according to your safety.
Money is the prime tool when planning a Do Dham Yatra. So, it will be best for a person to invest in tour packages that work very well for saving money. In a Do Dham Yatra package, you get things as per your budget. For example, the best travel agency, book your travel tickets, hotel, and the entire itinerary as per the amount you can invest in your Do Dham Yatra.
Takeaway
Are you planning for Do Dham Yatra and want to keep it convenient, and safe? Visit ABD Holidays for the best Do Dham Yatra package services.
We are the leading and most convenient tours and travel agency, providing every possible tourist destination tour all over India. Apart from that, we also provide services in hotel bookings, air bookings, cruises, and car rentals. If you want a perfect pilgrimage tour with an affordable budget or any other tour, you can count on us.