Things to consider before heading to the Do Dham Yatra | ABD Holidays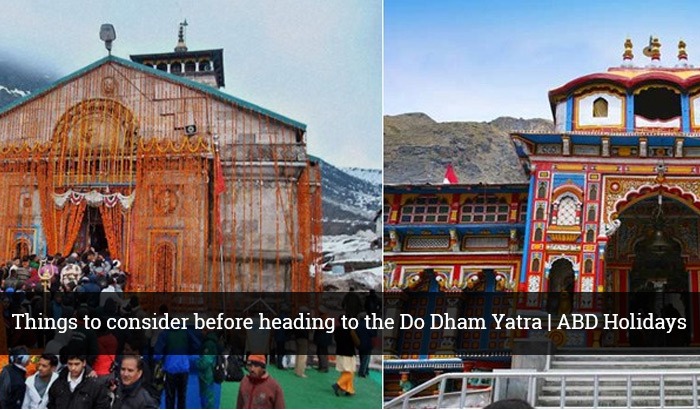 The Do Dham Yatra is among the most visited Hindu pilgrimages. Do Dham Yatra consists of a visit to Badrinath and Kedarnath, which are two of the most sacred places as per the beliefs of the Hindu religion. It is believed that traveling on a Do Dham Yatra can wash all your sins away and set you on the path of salvation. Read along to know more about the two most popular holy shrines of India.
Kedarnath
Most renowned for its immense religious significance, Kedarnath Dham is believed to be one of the 12 Jyotirlingas in India and a part of the Do Dham Yatra and the Char Dham Yatra. The place is surrounded by snow-capped mountains and breathtaking landscapes. The Kedarnath Temple is set in the Garhwal Himalayan range near the Mandakini River.
The doors of Kedarnath Temple are opened for worshippers in May and get closed after Diwali. Kedarnath Dham cannot be directly accessed by the road and to reach the shrine, you have to take on a 14-km uphill trek beginning from Gaurikund. But there are also options available for other modes of transport such as the Do Dham yatra by Helicopter. This is considered the most comfortable way to visit the Kedarnath temple and also complete the Do Dham Yatra.
Badrinath
Most known to be the sacred meditation shrine of Lord Vishnu, the Badrinath Dham is located between the majestic Narayan and Nar mountain ranges. This is one of the country's most revered pilgrimage sites and makes up for the final leg of the Do Dham Yatra as well as the Char Dham yatra. Featuring amazing picturesque landscapes and an idyllic atmosphere, Badrinath Dham is a paradise for devotees, nature lovers, and adventure enthusiasts.
The temple is opened for worshippers every year in April/May and remains open for the next six months. The nearest airport to Badrinath is around 311 km away in Dehradun, while the closest railway station is around 318 km in Haridwar. The Badrinath Dham is conveniently connected with prominent cities like Rishikesh, Dehradun, Haridwar, and Delhi via roads and can be reached easily via buses and taxis.
Things to know before leaving for Do Dham Yatra
In the Hindu religion, if a Hindu makes a visit to Do Dham Yatra or Char Dham Yatra once in a lifetime then he feels fortunate. These are auspicious trips and it is a belief that they wash away all your sins and show the path to salvation. Char Dham is generally a 10 to 14 days tour and it gets difficult to get leaves for such a long period. Therefore, the devotees perform this journey through Do Dham Yatra or Ek Dham Yatra. Do Dham Yatra tour includes either the Gangotri-Yamunotri Yatra or the Badrinath-Kedarnath Yatra which is a small pilgrimage tour around time duration of 5 to 7 days. Below mentioned are some useful tips so that you can have a successful trip.
Check the timings
While deciding the time you wish to perform Do Dham Yatra, choose the season when you can visit the shrines when they are open. Do Dham Yatra normally begins in April-May and ends in October-November every year but the best time is in the month of September as June to August the region faces heavy rains which can lead to many difficulties. Even in May, there are a lot of crowds which may lead to discomfort.
Hire a Guided Tour Operator
Hire an experienced tour operator. They will manage the services of Do Dham Yatra for you such as arrival and departure, the best accommodation, and the other conveniences you need during the entire Yatra.
Thorough checkup by a physician
Get yourself checked thoroughly by any physician 3 months prior to the journey and make sure that you do not suffer from high blood pressure, diabetes, cardiac disease, or any such problems. If so, it is better to get proper medication and treatment before you head on to the Do Dham Yatra. It is always preferred and advisable to carry prescribed medicines from a registered physician along with some general medicines required for common pains; stomach upsets, along with some suitable creams for applying on your legs to treat any minor sprain. These precautions will help a lot during the Do Dham Yatra.
Carry ready-to-eat foods
You should carry some packets of dry fruits or packets of food like raisins, almonds, cashews, chips, biscuits, chocolates, etc. which will help your body to regain energy during the arduous walks on the journey.
Don't plan the trip alone
We recommend planning the trip in a group either with your family or friends as the routes for the yatra are challenging and you may face several difficulties. Therefore, some kind of assistance is always required and preferred for the same.
Wrapping Up
ABD Holidays is among the best travel agencies delivering Do Dham Yatra packages at affordable prices. Visit our website to know more about our packages and to opt for one, contact us through the contact number given on our website. We will provide the best and most efficient services possible and make your journey memorable for a lifetime.